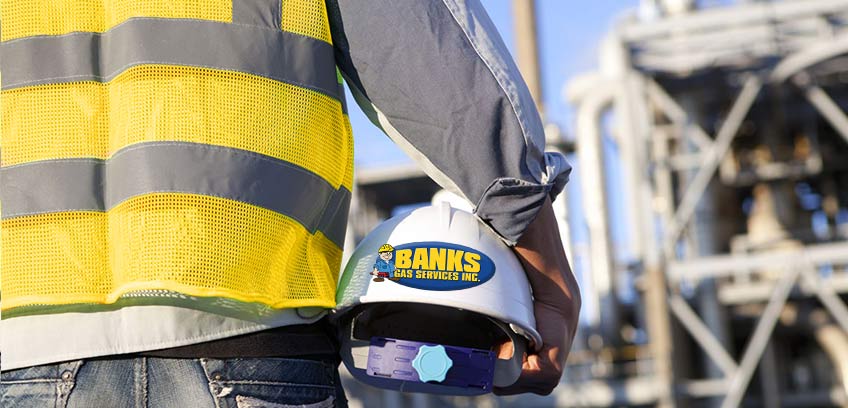 Founded in 2001 by Thomas K Banks, Banks Gas Services, Inc. has grown quickly to become a respected service provider in the natural gas line industry, working with national gas distributors like NiSource Inc. and regional providers including Columbia Gas and People's Natural Gas.
At Banks Gas, our mission is to provide safe and reliable service in the field of distribution gas line installation and repair.
The success of Banks Gas can be attributed to many things, starting with owner Tom Banks aggressive approach to building a state-of-the art company and finishing with the smart, diverse workforce Banks Gas has assembled and trained to handle the toughest jobs.
But if asked about the foundations of the business's success, Tom Banks will talk of family and the influence of his Grandfather, John K Banks.
Our History is a History of Family
Born in Braddock, Pennsylvania, the historic Pittsburgh community where Andrew Carnegie pioneered the Bessemer steel making process, John K Banks worked his way through the ranks to become the General Superintendent at Reliance Steel in McKeesport, PA.
John instilled in his grandson Tom two important lessons: first that a company is only as good as its employees, and second that entrepreneurial innovation is the key to success.
From his father, Paul Richard Banks, Tom learned about hard work and the blue collar work ethic. Paul Banks also demonstrated the family's entrepreneurial spirit by founding B&B Motorcycles, incidentally instilling in his son Tom a lifelong love of American made Harley-Davidson and Indian bikes.
In Tom's generation, all 4 brothers own businesses.
A former Marine, Tom Banks earned his stripes in the gas distribution industry working as a mainline foreman at Trafford Corporation. The entrepreneur in Tom saw an opportunity for skilled, affordable work in tying residential customers into the service lines and repairing leaks.
With a truck and some tools, Tom struck out on his own as Banks Gas.

The Growth of Banks Gas Services, Inc.
Founded in 2001, Banks Gas was incorporated as Banks Gas Services, Inc. in December of 2005 and headquartered in North Versailles, PA.
In just a few short years, the work of Banks Gas caught the attention of Equitable Gas, winning the growing company a contract to service residential and commercial customers at the tie-in point where tests often revealed leaks in the customers' delivery lines.
By 2008, Columbia Gas took notice of the service quality and capability demonstrated by Banks Gas and called on the now 7 year old company for service line work. Contracts from NiSource, People's Natural Gas and National Fuel Company followed.
Innovation is the Key to Banks Gas Growth
In order to compete in the 21st Century, Tom Banks decided to leave backhoe trenchers behind and innovate in the use of trenchless technologies, including vacuum excavators and directional drilling.
At every turn, Tom and his growing team seek to advance the resources and skill sets of Banks Gas, which today can boast significant experience in both corrosion control and GPS line and utility location as well.
A Dedicated Team Makes it Happen
Tom firmly believes that his employees are the company's greatest assets, never forgetting the lessons instilled in him by his grandfather, John K Banks.
At Banks Gas, all executives, managers, supervisors, and employees are called upon to be leaders who demonstrate the highest levels of professionalism, technical skill, and on-the-job safety. Beyond their professional duties, they are encouraged to exhibit behaviors of acceptance, inclusion, and accountability wherever their interactions with fellow employees, clients, and customers are concerned.
When you interact with Banks Gas at any level, from phone support to on-site crews, all the way to owner Thomas K. Banks, you deserve and will receive our very best.
Contact a Banks Gas by calling 412-829-5000, or visit our easy-to-use Contact page.
Contact Us Today